Introducing Alex Audio Butler: Automatic Mixing for Video Editors (now in Early Access for Adobe Premiere Pro CC)
Summary
Unimule introduces Alex Audio Butler: a plug-in that helps video editors deliver great sounding videos quickly, easily and consistently with automatic mixing.
Currently in Early Access as a VST3 plug-in for Premiere Pro (macOS/Windows) for €79. A full featured 10-day free trial is available.
Features
Alex Audio Butler introduces a new workflow that helps video editors deliver great sounding videos quickly, easily and consistently with automatic mixing.
automatic voice leveling
1-click vocal compression
automatic music volume correction
auto-ducking for music during speech
1-click master compression/dynamics & hard-limiting
automatic export loudness correction for online (YouTube, Vimeo, Facebook) or broadcast
The plug-in works by "listening" while you edit, and creating mix settings internally based on your high-level choices. No more thinking about dB's and Hz's. As if you leave audio to an assistent (a butler as it were…). Future additions will include instances for mixing Sound Effects and Ambience.
Supports
Early Access
From the start Alex Audio Butler has been developed in collaboration with video-editors to make sure it fits everyone's workflow. First in private beta until enough features were added and issues were ironed out. But now the plug-in has proven to be a valuable time-saver for video-editors, we've released it in Early Access. A full license (per user, buy once, use forever) is for sale for €79 (a 20% discount of the €99 it will be on release of v1).
Video editors of all skill levels (freelancers, teams/companies, hobbyists, YouTubers) from over 25 countries have used Alex Audio Butler already. With many of them using Alex Audio Butler in their daily or weekly workflow, saving time on every project.
Reactions
"Just slapped the trial into a project to check it out… dude, that's pretty impressive."  Mr_Randy_Watson on Reddit
"Mograph guy here. I installed the demo the other day and used it to slam out a VO/music track in under 5 minutes. I usually hate audio and leave it for last, making it one last annoying thing standing in between me and a finished video. It sounds better than what I could do manually given hours. Next project I'll know what I'm doing and it'll only take seconds. Definitely going to buy this."  FunKev on Reddit
"I am looking forward to the release with ambient, nat sounds. SFX, etc. — very subtle and effective over. Better than Essential Sounds in PP, IMO" bobbykeyskc on Reddit
Reviews/Tutorials
We're looking for people with an audience of one of the following:
Premiere Pro users
General creatives
Marketing/Communication content
If you want to create a (written, or video) tutorial send an e-mail to jerre@unimule.com with a link to your platform, and we'll work something out.
Developer: Unimule/Jerre van der Hulst
Unimule wants to help automate all non-creative parts of content creation. With a background in professional audio production software, our current focus is audio for video editors. With the constantly increasing demand for video content, we foresee a future where more and more repetitive tasks will be automized, enabling humans to focus on what they do best: create beautiful, interesting, engaging content.
Jerre van der Hulst is a software developer and product designer with a background in audio software development, mixing, and video-editing. Interested everything tech, business and creating valuable stuff on the crossroads of technical innovation and great UX.
Links
Images:
All in one zip: Alex-Audio-Butler-Early-Access-images.zip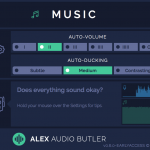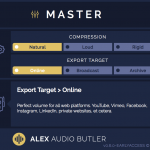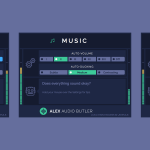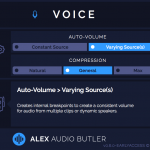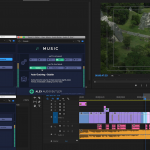 ---